BHT in the News
Minister: Financial Assistance Increased By $7M+
Bernews, March 14, 2014
http://bernews.com/2014/03/financial-assistance-spending-increased-by-7m/
Soldiers boost morale for seniors
Royal gazette, Ocotober 21, 2014
http://www.royalgazette.com/article/20141021/NEWS/141029937
'Brownie' is 100 not out

Royal Gazette, July 25, 2016
http://www.royalgazette.com/news/article/20160725/brownie-is-100-not-out
Age Concern: seniors need private sector

Royal Gazette September 21, 2016
http://www.royalgazette.com/news/article/20160921/age-concern-seniors-need-private-sector
45 Minute Video: Meeting On Seniors & Housing

Bernews, September 21, 2016
http://bernews.com/2016/09/45-minute-video-meeting-on-seniors-housing/
ARGUS DONATES 5K TO BERMUDA HOUSING TRUST
Bernews, November 9, 2016
http://bernews.com/2016/11/argus-donates-5000-bermuda-housing-trust/
HOUSING TRUST RECEIVES $5,000 DONATION
The Royal Gazette, November 9, 2016
http://www.royalgazette.com/news/article/20161109/housing-trust-receives-5000-donation
SENIORS TRAIN TO TACKLE EMERGENCIES
The Royal Gazette, February 8, 2017
http://www.royalgazette.com/news/article/20170208/seniors-train-to-tackle-emergencies
Bermuda Housing Trust is very pleased to be able to partner with the Red Cross on this very worthwhile project and look forward to continuing to work with the Red Cross as we look to securing the welfare of our senior residents.
COMMUNITY CAN BED IN TO EASE WEIGHT OF EXPECTATION ON HOSPITAL
Kim Wilson, Shadow Minister of Health and the MP for Sandys South Central (Constituency 34)
"Non-profit organisations such as the Bermuda Housing Trust play an extremely crucial role in our community by providing quality and affordable rental accommodations for Bermuda's seniors. The trust has an extremely long waiting list, which is a clear indication that we need more commitments from other such organisations to assist." The Royal Gazette, March 31, 2017
http://www.royalgazette.com/opinion/article/20170331/community-can-bed-in-to-ease-weight-of-expectation-on-kemh
BHT RESIDENT HEADLINES AMERICA'S CUP – STEEDE TO STAR AT OPENING CEREMONY
The Royal Gazette, May 5, 2017
http://www.royalgazette.com/americas-cup—news/article/20170505/steede-to-star-at-opening-ceremony
See video: https://www.facebook.com/BERMEMES/videos/1346954028706976/?hc_ref=NEWSFEED
BERMUDA HOUSING TRUST ANNOUNCES NEW APPOINTMENT
JANUARY 12, 2018 – The Bermuda Housing Trust is pleased to announce the appointment of Ms. Geraldine Smith to the new part-time position of Resource Services Officer (RSO). It will be her job to assist our resident seniors to live as independently and as comfortably as they are able in our properties.  Ms. Smith, herself a former trustee, brings over 30 years nursing experience to the post and a great deal of that experience has been in working with seniors. As our new RSO, Ms. Smith will be looking to visit as many of our residents as possible in their homes and on a regular basis if need be.
Housing trust mulls seniors facility
The Royal Gazette, October 30, 2018
http://www.royalgazette.com/…/housing-trust-mulls-seniors-facility
Housing trust TOUTS VALUE OF SENIORS
The Royal Gazette, November 1, 2018
http://www.royalgazette.com/news/article/20181101/housing-trust-chairman-touts-value-of-seniors
one of our tenants, myra bristol: 'i just love helping people'
The Royal Gazette, January 8, 2019
http://www.royalgazette.com/lifestyle/article/20190108/i-just-love-helping-people
Ministerial Statement | Bermuda Housing Trust |
Audited Financial Statements 2017/18
Lt. Col. the Hon. David A. Burch, OBE (Mil), ED, JP, MP, Minister of Public Works  – March 13th, 2019
LANG TO RETIRE FROM BANK'S CHARITABLE ARM
The Royal Gazette, MARCH 20, 2019
http://www.royalgazette.com/local-business/article/20190321/lang-to-retire-from-banks-charitable-arm
ONE OF OUR TENANTS, JOAN VANPUTTEN, 'Guiding younger generations'
The Royal Gazette, APRIL 2, 2019
http://www.royalgazette.com/lifestyle/article/20190402/guiding-younger-generations
Powerpoint presentation – Sandy's Rotary Club
March 11, 2020
HOUSING TRUST AUDITED FINANCIAL STATEMENTS
Bernews, JULY 17, 2020
https://bernews.com/2020/07/housing-trust-audited-financial-statements/
BHT Opens Newly Renovated Westcott Cottage
Bernews, SEPTEMBER 8, 2020
https://bernews.com/2020/09/bht-opens-newly-renovated-westcott-cottage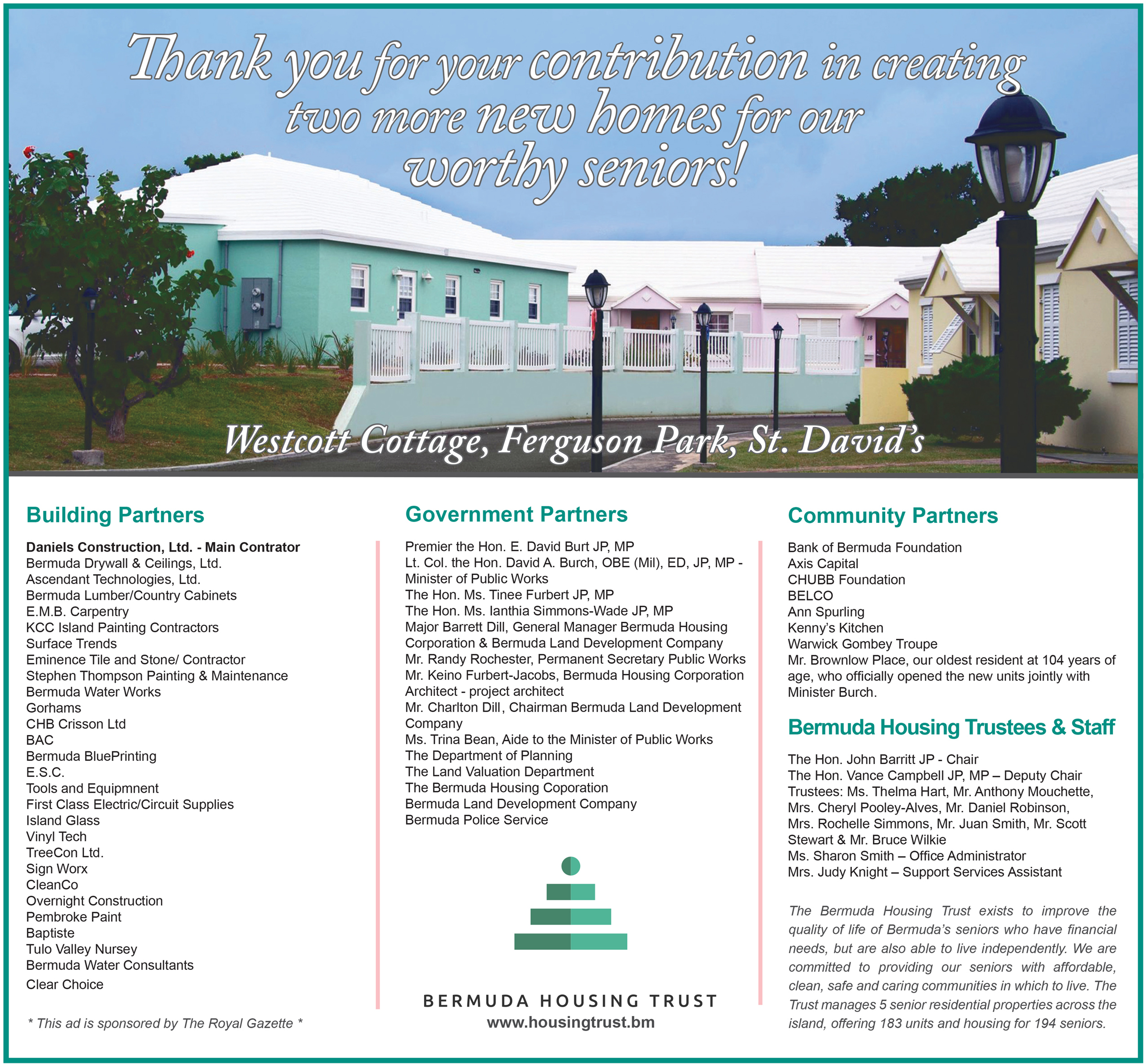 BHT Events
Singers entertain seniors at BHT tea
The Royal Gazette, November 7, 2018
http://www.royalgazette.com/news/article/20181107/singers-entertain-seniors-at-bht-tea
photos: bermuda housing trust seniors tea
Bernews, November 1, 2018
http://bernews.com/2018/11/photos-bermuda-housing-trust-seniors-tea/
Bermuda Housing Trust Holds Seniors Tea
Bernews, April 13, 2017
http://bernews.com/2017/04/md-bermuda-housing-trust-2nd-annual-seniors-tea/
Seniors enjoy tea party
Royal Gazette, November 23, 2015
http://www.royalgazette.com/article/20151123/NEWS/151129895
Bermuda Housing Trust 50th Anniversary Event
Bernews, September 25, 2015
http://bernews.com/2015/11/bermuda-housing-trust-50th-anniversary-tea-party/